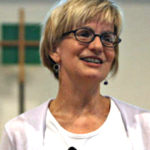 Hi, Esperanzans and old and new friends of Esperanza!
Your church council met last night via Zoom and we have some updates and very important information to share with you.
Discernment Meetings with Pastor Miguel
First up is a new format to go forward with discernment meetings with Pastor Miguel Gomez-Acosta from the Grand Canyon Synod staff. Pastor Miguel was going to lead an all-day workshop for us this coming Sunday, but, of course, that's out. So, instead, he's offering a three-hour online meeting, which will be available three times (identical meetings).
These meetings will be limited to 20 people to allow for conversation. All you'll need to have to participate is a computer with a camera and microphone and an internet connection. We'll send details for how to sign on to participants ahead of the date of the meeting.
Dates are Sunday, March 22, 9:00-noon; Thursday, March 26, 10:00-noon; and Sunday, March 29, 9:00-noon.
Sign up by emailing me at [email protected]. If requests for a particular day exceed 20, I'll get back to you to ask about an alternate date.
Realizing that a 3-hour online meeting might not sound like much fun under other circumstances, I hope you'll see this the way one council member does. She said, "I think hanging out with people from church for three hours sounds great! It's an event!" Plus it's a great way to invest in Esperanza's future, as the information gathered will help our Ministry Site Profile Team as we move the process along toward calling a new pastor.
Worship Plans
The plan through the rest of Lent is for me to develop something for each Wednesday and Sunday that will be a mix of scripture, meditation, prayer, maybe music…hoping to be a little bit creative. We'll recognize Holy Week and Easter as well.
But, then, we'll plan to do a full Easter celebration two to three weeks after we're able to resume in-person worship. The two to three weeks is to give us time to prepare some music, maybe Easter breakfast, an egg hunt, etc. Technically every Sunday is a celebration of the resurrection anyway; we'll just go big one week.
Caring for One Another
The council will be calling members to ask who could use some help, who can give some help, and whether people are getting news updates via the newsletter. We'll compile a list of people able to offer assistance to others, and that list will be available to me, to Joni (our parish administrator), and to members of council. We'll be able to update it in real time to prevent the same one or two people from getting all the help requests.
If you're able to pick up some groceries or prescriptions or whatever's needed for someone who can't or shouldn't go out, please let us know when you're called. Then, if you later become unable for a time, you can let us know that as well and we'll pause you on the list.
Just so everyone knows:
Pastor Carol – [email protected]
Joni Thorpe – [email protected]
Michelle Tinsley (president) – [email protected]
Rachael Hanania (vice president) – [email protected]
Peggy Wagner – [email protected]
Herb Pinske – [email protected]
Liz Farquhar – [email protected]
Doris Dorwart – [email protected]
Jessica Mueller – [email protected]
Robert Elsaesser – [email protected]
Paul Gerrish – mailto:[email protected]
Ongoing as Best We Can 
I plan to do some online confirmation instruction (though probably not in a class format).
Thursday Matters will try meeting via Zoom beginning April 2 at 9:30am.
Watch for information about Children of Hope Preschool, which is closed at present.
Money
So … our expenses as a congregation go on even when worship gatherings aren't going on. We will likely be able to reduce some expenses, but many will remain. And many of our members and regular attenders make their donations to church by bringing their envelopes when they come on Sundays.
You're probably already ahead of me on this, but: We, as a congregation, need you, as a part of the congregation, to continue your generous donations to support the ongoing and future ministry of Esperanza Lutheran Church.
Esperanza is in a particularly vulnerable stretch here—between regularly called pastors and now enduring this pandemic along with everyone else. We want to assure that we can keep things going as much as possible, including such things as the call process, and also be prepared to jump back in with energy when in-person worship and other ministries get the green light to start up again.
Speaking to everyone at Esperanza on behalf of everyone else at Esperanza, I strongly encourage you to keep up your regular giving. You can do that in one of these three ways:
mail your offering to Esperanza Lutheran Church, 2601 E. Thunderhill Pl., Phoenix, AZ 85048 (seal your envelope in some way other than licking it, please)
sign up for automatic giving through Vanco (email Joni Thorpe at esperanza@myesperanza or call the church office at 480-759-1515 to ask for a sign-up form)
set up your donations as an automatic bill-pay via the online option with your bank
You are an important part of keeping our church strong through this challenging time.
Finally …
Church Council will be meeting every two weeks, at least for a while, as events and advice from government health authorities change from day to day. Please get in touch with any questions, thoughts, and, especially, needs you may have. And please stay in touch with your friends and neighbors.
"If then there is any encouragement in Christ, any consolation from love, any sharing in the Spirit, any compassion and sympathy, make my joy complete: be of the same mind, having the same love, being in full accord and of one mind." –Philippians 2:1-1