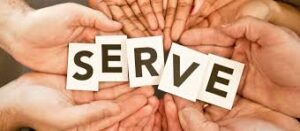 The mission of the Community Outreach Team is to serve and connect with the community by sharing the love of Christ in meaningful supportive, and uplifting ways.
Empowered and inspired by the Holy Spirit, we are committed to serve — one another and our neighbor.  Below are some of the places in our community where we do God's work with our hands.
Feed My Starving Children, a global meal-packing site
Habitat for Humanity, a non-profit organization that builds homes for our local neighbors
Watch videos about our Gemma family home build by clicking: 2021/2022 Habitat Build.
Grace Lutheran Church Homeless Outreach Programs, including Sunday morning pancake breakfast and summer heat respite   Click Here for More Information 
Kyrene Resource Center which supplies food, school supplies, and other needs to families in our school district  Click Here for More Information 
I-HELP (Interfaith Homeless Emergency Lodging Program), a temporary shelter for homeless adults hosted by Desert Cross Lutheran Church once per month – Our Programs – AZCEND.  Click Here for More Information
Community Festivals & Parades, such as the Easter Parade & Spring Fling (47th Annual Kiwanis Easter Parade – Upcoming 47th Annual Kiwanis Easter Parade in 2023), an event organized by the local Kiwanis Club, and the Children's 4th of July Bicycle Parade in 2023, an event coordinated by the Ahwatukee Foothills Chamber of Commerce   Click Here for More Information
Garden of Eatin', Esperanza's community garden of raised beds that provides opportunities for members and neighbors to garden. We also encourage members and neighbors to contribute their compost to our blue bins.  Click Here for More Information 
Kyrene de la Esperanza Elementary School, a local elementary school
Children of Hope Child Development Center, our preschool for children ages 2-4  Click Here for More Information 
We have long been active in reaching out to the larger community!
Visit our Hope Grows Here page to see Presentations & Videos of Mission Moments by members of the Esperanza Community from our 2021 Stewardship Program.  Click Here to Access those Presentations & Videos
Watch our video about providing Meals for Healthcare Workers during the Covid-19 pandemic.