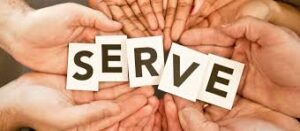 Empowered and inspired by the Holy Spirit, we are committed to serve — each other and the world.
Esperanza members support the local Feed My Starving Children meal packing site and Habitat for Humanity, among other projects including making meals for healthcare workers and mask making during COVID-19.
Watch our videos about our 2021/2022 Habitat Build and Meals for Healthcare Workers.
The Children of Hope Child Development Center, a preschool that teaches living and learning in Christ, is a ministry of Esperanza, located on campus.  We also offer small group opportunities for adults who wish to study, discuss and form friendships.  And we offer a host of Kids & Youth programs including Sunday School, Confirmation, and Vacation Bible School.
Visit our Hope Grows Here page to see Presentations and Videos of Mission Moments by members of the Esperanza Community from our 2021 Stewardship Program.
COVID-19 work by members of the Esperanza Community serving others in the Greater Phoenix Community and other parts of Arizona.