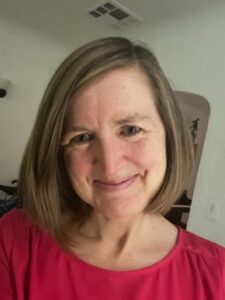 People of Hope:
This past Sunday, on God's Work Our Hands Sunday, Lutherans across the nation engaged in acts of service. Of course, many of us find ways to love our neighbor on a monthly, weekly, or even daily basis, but on God's Work Our Hands Sunday, Lutherans serve en masse.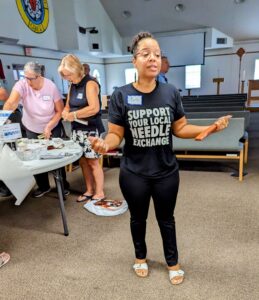 Here at Esperanza, we welcomed volunteer coordinator Lisette Geraldo (right) from Sonoran Prevention Works (Sonoran Prevention Works – Building a healthy Arizona for people who use drugs (spwaz.org), a state-wide harm reduction agency whose main office is in Tempe. With Lisette's instruction, we assembled 1,000 naloxone kits. Each kit in a dark-colored plastic bag that shields its contents from the sun contains instructions for administering naloxone, two syringes, and two doses of naloxone. You may be familiar with the product Narcan which is the name brand version of naloxone in a nasal spray. Naloxone is the generic drug and much less expensive which is why Sonoran Prevention Works distributes it with syringes instead of the more easily administered nasal spray.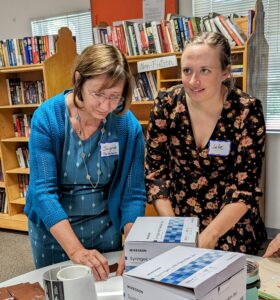 Naloxone reverses opioid overdose; it saves the lives of those who receive it. Opioids include heroin, fentanyl, and prescription pain medication. While Lisette was answering questions, Esperanza member Dr. Jayne Peterson (left in blue) shared that she and some of her colleagues prescribe Naloxone alongside prescribing opioids for pain relief as people can and do unknowingly overdose. Though Sonoran Prevention Works (SPW) believes the actual number to be underreported, Lisette told us that SPW is aware of approximately 26,000 lives that have been saved by naloxone kits prepared by SPW volunteers and staff. SPW is the largest distributor of Naloxone in the country! Lisette encouraged everyone to carry Naloxone with them, especially if you have a friend or family member who uses opioids. You may certainly reach out to SPW to obtain a free Naloxone kit; alternately, you can go to any pharmacy and pay for it.
If you suspect someone is overdosing from opioids, you first rub your fist on their chest. If they respond, there is no need to administer Naloxone. If they do not respond, call 911. Then, take a syringe from the kit, fill it with the entire dose of one Naloxone bottle, and stick the syringe through the person's clothing into their upper arm, thigh, or butt. It's also important to do rescue breathing until the person begins breathing on their own. If the person does not respond with one dose of Naloxone after a few minutes, you may give them the second dose of Naloxone from the kit. If the person is overdosing on a drug that is not an opioid or is dealing with an entirely separate medical issue unrelated to a drug, the Naloxone will not harm them or affect them in any way. The Good Neighbor law, an Arizona state law, allows people of goodwill to administer Naloxone with no negative legal consequences regardless of the outcome.
If you'd like to learn more about Sonoran Prevention Works or harm reduction, go to Sonoran Prevention Works – Building a healthy Arizona for people who use drugs (spwaz.org).
Jesus said: I came that they may have life and have it abundantly (John 10). Thank you for contributing to the lives of our neighbors, the beloved people of God!
With gratitude,
Pastor Sarah