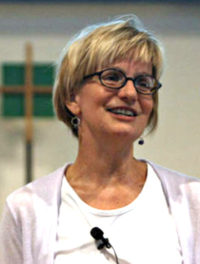 Readings for this Sunday, March 22, include the prophet Samuel anointing David to be the second king of Israel (1 Samuel 16:1-13), the well-known "The Lord is my shepherd" psalm (Psalm 23), a passage from Paul's letter to the Ephesians about living as children of light (Ephesians 5:8-14), and the long and fascinating story from John's gospel about Jesus giving sight to a man who'd been blind from birth (John 9:1-41).
Psalm 23 is a lovely meditation for each of us during this time, when we want to remember that, even as we keep our distance from one another, still we're never alone. The psalm is attributed to King David (the one anointed in our first reading). It's lonely at the top, a lonely job being king of Israel, but David felt himself always both led and accompanied by God, tenderly guided in the right way and protected by God at every turn.
"Even if I walk through the darkest valley," David wrote, "I fear no evil." Another translation reads "Even though I walk through the valley of the shadow of death." These are familiar words to many of us, and soothing ones, especially now. Whether you're young and healthy or you fall into a higher-risk category vis-à-vis the coronavirus, the shadow of death is looming over our community, our country and our world. The same was true for David. But, surrounded by enemy nations and threatened by rebellion from within, even from his own son, David nevertheless felt confident because he knew God was with him.
Set apart in self-quarantine, God is with us. Separated from loved ones we are worried about, God is with us … and with each of them as well.
To listen to a calming reading of Psalm 23 in the King James Version click here. Or read the New Revised Standard Version translation right here:
The Lord is my shepherd, I shall not want.

He makes me lie down in green pastures;

he leads me beside still waters; 

he restores my soul.

He leads me in right paths

for his name's sake.

Even though I walk through the darkest valley,

I fear no evil;

for you are with me;

your rod and your staff—

they comfort me.

You prepare a table before me

in the presence of my enemies;

you anoint my head with oil;

my cup overflows.

Surely goodness and mercy shall follow me

all the days of my life,

and I shall dwell in the house of the Lord

my whole life long.
See how the promise isn't that events will never drag down our souls? The promise is that in those times, God will restore us, lift us up, revive our spirits. During this pandemic and the restrictions it has brought and will bring, we'll experience cycles of emotion: frustration, fear, grief, anger and boredom. When those feelings flood you, perhaps you'll want to return to Psalm 23 to remind yourself that you're not walking this path alone, and that all of life wraps up in God's house—where we do indeed shelter in place.
When we come to our gospel reading, we move from David's profound but simple words of comfort to the story of a miracle that raised questions for the Pharisees and may raise questions for us as well.
Before I talk about it, please read the account here, or you can watch the events unfold in this clip from The Visual Bible: The Gospel of John, narrated by Christopher Plummer.
Did you notice how the Pharisees refuse to acknowledge what's right before their eyes? Why is that? It's because what Jesus does and how he does it doesn't fit their expectations and their criteria. A miracle has happened, and the beneficiary of the miracle attests that it was Jesus who performed it. But, the Pharisees say, the miracle cannot have come from God because it was performed on the Sabbath.
The Pharisees claim to see clearly, they claim to know definitively, they claim to be in a position to judge. But Jesus tells them: You claim to see, but in fact, you are blind to the truth of who I am and what I've done. And so, you remain in a state of sin, a state of separation from the God you say you serve.
Meanwhile, the man who was given his sight knows nothing about Jesus except that it was Jesus who ended a lifetime of blindness. But that's enough for him. Knowing that truth gives him courage to stand up to the moral and societal authority of the Pharisees. It gives him confidence to go down on his knees and worship what, to the eyes of those lacking faith, is no more than simply another man. Jesus has given this man physical sight (an amazing gift!) but has also opened his eyes to see and recognize Jesus, the Son of God.
Now the story moves on. Did you have the same question I did about Jesus' answer to his disciples about why the man was blind?
The disciples ask, "Rabbi, who sinned, this man or his parents, that he was born blind?" And Jesus answers, "Neither this man nor his parents sinned; he was born blind so that God's works might be revealed in him."
This puts me off. But it aligns me with the Pharisees, that like them my criteria haven't been met. It's me saying: Sorry, but if you're saying God left a person in blindness for decades, just to tee up this miracle for Jesus … well, I object. That doesn't fit my understanding of how God does things.
It's funny how saying it out loud shows me how inappropriate it is. It's as if I were to turn to Jesus and say, "Look, I don't wanna tell you how to do your job, but …" Funny – it's also one way to look at the approach the Pharisees continually take toward Jesus.
But, recognizing the flaw in my thinking, I give it a little more thought and realize that this man may have been more than happy to experience the first part of his life in order to experience this moment: to gain his sight and, at the same time, to become someone through whom God's power is revealed. An important, abiding character in the story of Jesus the Messiah.
Of course, he didn't know he was waiting. Only God knew what lay ahead, the part he would play, and the joy he would experience. He certainly may have felt deprived and even angry over the years—at his parents, at life in general, even at God.
Here's where I find for myself in this story today: in the unknowing waiting. I don't want to equate waiting out the coronavirus with being unable to see, but nonetheless I'd say there's a parallel.
None of us knows how long we'll wait before the world is delivered from this pandemic threat. We're allowed our feelings, up and down, through it all. Some of us may even face deep grief if the virus or another ailment takes a loved one during this time.
In a sense, we're all in the dark. We're blind to the immediate outcome.
But we've been shown the future—the future revealed by Jesus when he did miracles like this one—giving sight to a man who'd never, ever seen anything of the world around him. This show of what Jesus called "God's works" is a vision of the God whose world this is, what that God can do, what that God intends to do, and how that God intends things to be: sight for the blind, a sturdy gait for the lame, good news to the poor, food for the hungry, agency for the powerless, God's will and God's wisdom as the organizing principles of the universe, with God's love sustaining it all.
This is what we await while we wait. We too, once were blind. But now we see. No matter what the reality before us, the eyes of faith pierce through to the truth: Jesus is coming to heal us, to heal it all. We are waiting, as always, just more acutely aware now. We wait with hope and confidence grounded in faith in what we've seen and heard and in the one who could give a man born blind a whole new life of sight.
May our hope be contagious. May we find ways to spread it, even through closed doors and across social distance.
And may you all be well in body, mind, and spirit.
In Jesus' name. Amen.
Pastor Carol
P.S. Looking for a little music? Here's a song by David Crowder called "You're Everything."