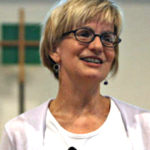 Please excuse me if I use my space this week to plug an app. I just want to make sure people have heard of the YouVersion Bible app.
This app offers an apparently limitless number of reading plans to help guide your Bible-reading. You can choose a plan focused on a personal issue you struggle with (worry, busyness, etc.) or a theme like grace or stewardship or Sabbath. Or you can launch into a particular biblical book, a section of Scripture, or the whole Bible, using a plan that provides guidance and devotional content for each day.
I've known a lot of people who've found the Bible app to be the perfect answer to the dilemma of wanting to read the Bible more but not knowing where or how to begin.
Personally, I'm at day 310 of a through-the-Bible-in-a-year plan that includes daily devotionals reflecting on each day's readings.
Of course you can look up the readings in your own Bible if you prefer not to read from a screen. Bu you can also highlight verses and make note in the app.
The app is also good to have simply to look up passages or read whatever you want to read. And it comes with lots of different translations and versions in English as well as in lots of other languages.
The app is free. If you don' have it, I encourage you to give it a look. Online it's at bible.com. In the app store, search "Bible" or "YouVersion Bible app," skip past the paid ad, and look for the icon below.
And remember: "All Scripture is God-breathed and is useful for teaching, rebuking, correcting and training in righteousness" (2 Timothy 3:16).
May God bless your Bible-reading!
-Pastor Carol