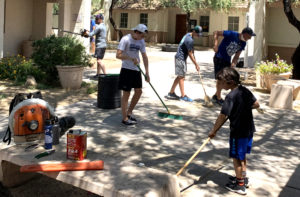 Last Sunday a group of dads and youth cleaned up the patio at church where we have formed so many happy memories.
During a recent wellness outreach call, a council member talked with a church member who expressed concern about the unkempt look of our patio. Forced to suspend in-person meetings and worship due to the pandemic, the church council decided to suspend landscaping services. In the weeks since, nature had begun to reclaim the patio and parking lot.
So, the group responded to the call and went to work on fallen leaves, wilted plants and overgrown branches. Volunteers included Denzil Klein, Randy Wright, Ron, Blake and Danny Tuszynski, Brian Cantoni, Craig Peck, and the Paradise boys (Taite and Jax). The team worked hard, beautifying our gem of a campus.
You can help too! Our member landscaping team is gathering at 7 a.m. tomorrow to continue the work.
Please bring your trimmers, gloves, rakes, brooms, and other tools to help spruce up Esperanza while getting some exercise and fellowship. Wear sunscreen and a hat. For the health and safety of all, we will maintain social distancing and wear masks when in close proximity to each other. Refreshments will be served.
If you can't participate at 7am, feel free to stop by anytime and enjoy a walk around the beautified campus. It is very peaceful and will give you a burst of energy – we promise!