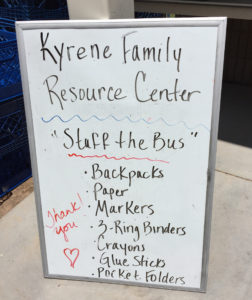 Schools could be opening soon, and families served by the Kyrene Family Resource Center will need schools supplies as well as food. The list includes backpacks, paper, binders, crayons, glue sticks and more. Can you help?
Non-perishable food and personal hygiene items also are urgently needed right now. The center anticipates needing to provide food to families through the summer. A list of needed items can be found 
here.
If you can help, please drop off your donations at the Fellowship Hall from 2 to 6 pm on Mondays. On Tuesdays the items will be delivered to the center.