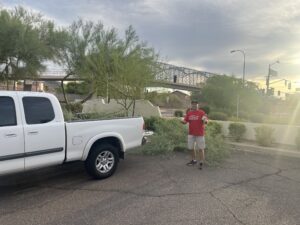 Help fellow Esperanza Community members and Ahwatukee volunteers to clean-up Esperanza's campus for 2 hours and you will make a huge impact!
The entire summer was a consistent turnout of volunteers to help keep our campus clean!  Thank you so very much for all of the amazing volunteers on our scheduled Saturday mornings! 
Our next clean-up will be: 

Saturday, September 30th, 2023 at 6 AM.
June 17th: "In 2 simple hours, 11 volunteers on Saturday, trimmed trees and shrubs, broomed the sidewalks and parking lot, blew the dirt and dust, and filled up our entire dumpster all the while beautifying the Esperanza campus!

Yes, that is correct, 22 "man" hours were put in in just 2 hours making a huge impact on the church landscape. We also enjoyed getting to know one another, where we grew up, how we came to be in Arizona and why we come to Esperanza.

A huge shout out of thanks and praise to the groups who meet at Esperanza for taking the time out of their morning to come and help us clean up." – Michael Paradise, Esperanza Treasurer
We need your help to continue to keep God's gift, the amazing Esperanza Campus grounds, clean and well maintained! To do so, the Church Council is asking for volunteers to join our Green Team to help manage our beautiful campus grounds. The Green Team will be responsible for grass cutting, tree and bush trimming, and broom pushing for the seasonal clean up of the mesquite tree leaves and catkins. Other tasks will be assigned as needed throughout the year. As you know, we have hundreds of people who visit our campus each week and we want to put our best face forward.
Clean-up days will generally take place on the 1st and 3rd Saturday of each month commencing at 6:00 AM and concluding at 8:00 AM.

September Clean-up Days are Saturday, September 30th at 6:00 AM and Saturday, October 14th.

We also need sweeping each week in the courtyard, Preschool and all surrounding sidewalks on Saturday afternoon/evening or Sunday morning prior to Sunday service.  Feel free to Just Do It!  Thank you!
The more hands and feet we have the more we can accomplish in a shorter period of time. For those who volunteer at the Habitat build each year we understand the scheduling conflict. By doing this volunteer program we will save valuable financial resources instead of spending on a landscaping company. Green Team volunteers will receive their very own Green Team shirt! We will also provide coffee and breakfast danishes and bagels at each clean-up. We hope that anyone reading this will take this ministry as seriously as we do worship planning, Habitat building, choir, prayer shawls and the many other ministries at Esperanza.
To join the green team please and to confirm your participation please email Michael Paradise at [email protected]