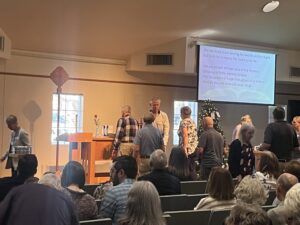 Your belief that God has plans for our congregation is evident as you are declaring your generosity! So far, we have received 51 intents toward our goal of 61 (84%).
(photo left is of fellow congregants making their financial intent)
If you haven't yet responded, please submit your 2024 giving intent in one of the following ways:
Fill out the online version of the card online at https://myesperanza.org/intent-card/
Bring your intent card to church this Sunday and drop it the basket on the altar.
If you misplaced your card or never received one, you may pick one up in the church office.
Mail or take your card to the church office.
Your generosity will make a tremendous difference as we seek to strengthen our ministry.
For more information on our 2023/2024 Stewardship Program
Click Here