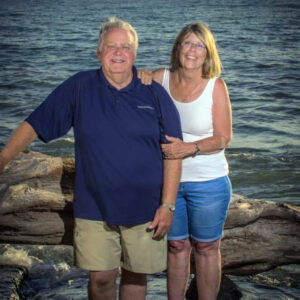 Longtime member Tom Grayson, husband of Debbie Grayson, died early Saturday morning at home. We will celebrate his life at a memorial service Sunday at 12 noon in the sanctuary with a reception following. The Esperanza family prays that Debbie and her family find comfort and peace in Christ as they move through this difficult time.
Thomas Garland Grayson passed away on the 13th of November 2021 at the age of 72.
Tom was born to Bernard and Alma Grayson on October 21, 1949, at Bolling Air Force Base in Washington D.C. During most of his childhood, he and his family traveled around the world following his father's Air Force career. Notably, the family lived in Japan and Turkey and eventually settled in Salt Lake City, Utah, where Tom grew up with his brothers Larry, Scott, Mike, and Terry.
It was Salt Lake City, Utah where Tom culminated his youth by graduating from Skyline High School and was accepted into the United States Air Force Academy. In the summer of 1973, after four intense years, he proudly graduated as a member of the 7th Squadron and was commissioned as a 2nd Lieutenant in the United States Air Force.
Following graduation, Tom was stationed at Williams Air Force Base in Phoenix, where he would fulfill his dream of becoming a pilot. After pilot training, he continued as both a T-37 instructor pilot and a pilot training academic instructor.
It was during this exciting time in his life that he met the love of his life, Debbie. The two began dating and would go on to be married on November 17, 1979, in Las Vegas. Two short years later, they welcomed their first son, J.T., and shortly thereafter, they moved to Downers Grove, Illinois. It was here that their next two sons, Jeff and Dano were brought into the family, each two years after the last.
While in Illinois, Tom joined the Illinois Air National Guard as an A-37 Dragonfly pilot and was the corporate pilot for Evans Furs company. The family of five then moved to Phoenix where they would happily spend over three decades together. In that time, Tom was hired at America West Airlines where he began his career as a commercial airline pilot. He passionately followed his dream through the, as he put it, "ups and downs" of the airline industry, to include qualifying on multiple airplanes, starting as the pilot in an interactive aviation exhibit at the Arizona Science Center (which is still there), and even flying on the east coast during 9/11.
Despite a busy airline career, Tom will be forever known as a man that made people laugh. He was always quick with a joke and a smile and even had a side career in stand-up comedy. He competed on the armature stand-up circuit and even co-founded the Ahwatukee Comedy Club, which stood up to rave reviews.
Upon retiring as an Airbus Captain with over 30,000 flights hours, Tom immediately found a continuation of his life's work as a simulator instructor for American Airlines.
Meanwhile, the joy he found in his career was only matched by his pride in his family. Tom dearly loved his three sons whom he leaves behind: J.T. and his wife Kateley, Jeff and his wife Marisa, and Dano. As well, he became a proud and loving grandfather in recent years when his two grandchildren, Lucas and Charlie, were born to Jeff and Marisa. But most of all, Tom loved his wife Debbie, a loving partner and soul mate through all of their adventures. The two would have celebrated their 42nd year together last Wednesday.
Tom was an amazing man, friend, husband, father, grandfather, son and brother, and he will be missed by everyone who had the pleasure of meeting him.
In lieu of flowers, memorial gifts may be made to Veterans Airlift Command. https://www.veteransairlift.org/