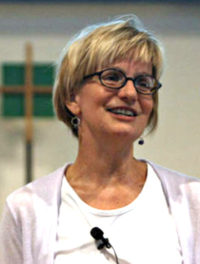 The grief and stress of this COVID-19 pandemic is exhausting. Healthcare workers around the world are wearing themselves out doing everything they can with what they have to work with. But even those of us not on the front lines can feel exhausted by grief and stress from which distractions give us only temporary reprieve.
Speaking for myself, I go through emotional ups and downs. But, today, as I was getting my coffee and sitting down to write, the words that popped into my head were: "This is taking the wind out of my sails."
Then, here come the readings for this Sunday, and they couldn't be more fitting—not just for those of us who feel our sails are empty but for everyone affected by this pandemic, from the stressed all the way to the deceased.
Is the wind out of your sails? Do you feel depleted? Are you frightened by the increasing death toll? Sad for the medical professionals who are getting sick or who are unable to go home to their families for fear of spreading the infection there? Are you worrying about what will happen with your job, with your family, with your own life should the virus hit close to your home?
On a check-in call with pastors in our conference this past week, one pastor said she was in her car going to the grocery store when she was overwhelmed by a strong urge to run away—a feeling she hadn't had since high school, she said. But then she realized there was no place to run to. This is a whole-world thing.
Where can we run to?
This Sunday's readings prompt us to spread the map out a little farther, beyond the limits of this world, beyond the visible points on a map to the invisible reality that transcends all this. Our readings remind us of a reality and a power that preceded life, that made life, that enables life, that can and does recreate life even after death.
If ever we're tempted to despair, we can open our eyes a little wider to see beyond the immediate, beyond both the physically present and the temporal present—to see God before, within, around, above, below, and after it all.
Our Old Testament reading is the amazingly stirring "dry bones" passage, Ezekiel 37:1-14. The prophet Ezekiel speaks to the people of Judah after Jerusalem has fallen to the army of Babylon, with many citizens carried off into exile. In this prophecy, he communicates a message of hope in that desperate time.
The hand of the Lord came upon me, and he brought me out by the spirit of the Lord and set me down in the middle of a valley; it was full of bones. He led me all around them; there were very many lying in the valley, and they were very dry. He said to me, "Mortal, can these bones live?" I answered, "O Lord God, you know."
Then he said to me, "Prophesy to these bones, and say to them: O dry bones, hear the word of the Lord. Thus says the Lord God to these bones: I will cause breath to enter you, and you shall live. I will lay sinews on you, and will cause flesh to come upon you, and cover you with skin, and put breath in you, and you shall live; and you shall know that I am the Lord."
So I prophesied as I had been commanded; and as I prophesied, suddenly there was a noise, a rattling, and the bones came together, bone to its bone. I looked, and there were sinews on them, and flesh had come upon them, and skin had covered them; but there was no breath in them.
Then he said to me, "Prophesy to the breath, prophesy, mortal, and say to the breath: Thus says the Lord God: Come from the four winds, O breath, and breathe upon these slain, that they may live."
I prophesied as he commanded me, and the breath came into them, and they lived, and stood on their feet, a vast multitude.
Then he said to me, "Mortal, these bones are the whole house of Israel. They say, 'Our bones are dried up, and our hope is lost; we are cut off completely.'
Therefore prophesy, and say to them, Thus says the Lord God: I am going to open your graves, and bring you up from your graves, O my people; and I will bring you back to the land of Israel. And you shall know that I am the Lord, when I open your graves, and bring you up from your graves, O my people. I will put my spirit within you, and you shall live, and I will place you on your own soil; then you shall know that I, the Lord, have spoken and will act, says the Lord."
These bones were "very dry." This is not a vision that can be misinterpreted to mean that God can awaken someone who's dozed off. These fallen people are long since dead, flesh gone, bones bleached in the sun.
Why would that be a problem though? Why would that be an impediment to the God who created life from nothing in the first place?
That's what God shows Ezekiel in this vision. And the point is: So that "you shall know that I am the Lord." Ezekiel and the people will know when God has brought them back out of exile and placed their feet back on their own soil. They'll know that God is God, and nothing—not even the great Babylonian empire—can thwart God's intentions for them.
God is God. We can't say that and, in the next breath, say, "All is lost." With God as our God, we are never at a dead end.
Which brings us to our gospel reading, the account of the last of the signs Jesus performed to let the world see who he was. This is the story of the death of Jesus' friend Lazarus and what happened after he was entombed.
You can watch the story unfold in a chapter from the Visual Bible: Gospel of John by clicking here (note: the video goes a little beyond our reading). If you prefer to read, the text is available here.
Finished?
You may have noticed, as you watched or read, that Jesus delays going when he hears that Lazarus is ill. In an echo of last week's account of Jesus' giving sight to a man born blind, Jesus gives this explanation: "This illness does not lead to death; rather it is for God's glory, so that the Son of God may be glorified through it."
Later Jesus says that his prayer to the Father as he stands by the now-open tomb serves the same purpose: it's for the sake of showing that it's God who's at work in this.
Again, the love that leads to creation, the power that brings life from nothing, the power Ezekiel attested to, the love that sent the Son into the world: that love and that power flows through Jesus. This man who weeps at the death of his friend is also the Son of God who can change his friend's tomb from a permanent to a temporary resting place.
Jesus' final sign before his death shows him aligned with the creating, liberating work of the God of new beginnings, in a line that stretches from creation through Ezekiel to this point, where Jesus stands on the verge of his own death and reverses the death of another.
And with Jesus' death, we'll see that there are no dead ends, no final chapters, no unopenable tombs with this God.
Our current reality of worldwide fear and universal uncertainty will pass. For those of us who are living through it, our lives will be forever changed. And there will be those—already have been so many of those—who will not see the end of this pandemic. This chapter in God's history will be remembered, no doubt, but the story goes on, for both survivors and casualties.
God is God. Dry bones, entombed friends, executed Messiah—all are deeply felt human events and occasions for God to demonstrate his power and for us to see and believe. Let that seeing and believing inform all our seeing, so that we can believe and not despair. So that we can believe in life and love always flowing from our Creator God and his Son, our Lord and Savior Jesus Christ.
May hope and optimism live on in us, and, undergirding it all, faith and trust in the God from whom all things come.
I invite you to lose yourself in either or both of these musical expressions of the power of our Creator God:
"Thy Strong Word" (words by Martin Franzmann, music by Thomas J. Williams), performed by the orchestra and choir of Concordia University Irvine for a celebration of the 500th anniversary of the Reformation (also in our hymnal at #511)
"Awake, My Soul" by Chris Tomlin, performed at the Red Rocks Amphitheatre outside Denver, with spoken word by Lecrae
May God bless you in the week ahead with health, with faith, with patience, and with joy. In Jesus' name. Amen.
Pastor Carol