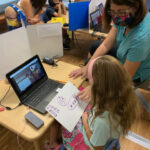 Our innovative Children of Hope Preschool launched a Distance Learning Support Classroom for school-age kids on August 17, helping children in kindergarten through second grade get the most from their online classes. Program Notice Update: This program has been suspended as of 9/4/2020.
Public schools have moved classes online because of the COVID-19 pandemic, leaving families with very young students challenged to keep their children engaged and on task. Ten students from the Kyrene School District and the Horizon Honors School in Ahwatukee are enrolled. Preschool Director Lynn Hockenberger and four other teachers, including Cindy Gerrish and Lori Palomaa, worked alongside the students.
"It is challenging for kiddos in these younger grades to navigate the online platform and stay engaged," said Lynn. "Technology issues created even more struggles as systems were not prepared for the volume. But by the end of the week, things began to run smoothly."
"Hats off to the Kyrene and Horizon teachers for the countless hours they have put in to create and successfully implement these online learning modalities, and to our preschool teachers who are supporting these little learners through this difficult time," she added.
The Children of Hope Preschool program for children ages 2-4 begins on September 8.
Donations needed
You can help the school open safely by donating urgently needed supplies of liquid hand soap and disinfectant wipes. The hand soap should be the kind that comes in a pump bottle, and preferably not the antibacterial kind due to the age of the students. The school also needs a good supply of wipes.
Bring your donation to the church kitchen on Mondays, Wednesdays and Fridays from 9 a.m. to noon.
Contact Lynn with your questions at 759-1515 or at [email protected].