Need a gift idea for a pet or pet owner?
Alice Schultze has the perfect gift-after-a-gift suggestion: one of the prayer shawls she knits for pets, which can be used as a wrap or blanket. The shawls are sold inside the church from two displays, with a suggested donation of $20 apiece. Half of the proceeds go to an animal rescue organization Crest-Care Inc, a national rescue for Chinese Cresteds.  The other half of the proceeds go to Esperanza Lutheran Church.
Each shawl comes with a card, a gift bag and tissue wrapping paper.
"If you're ministering to animals, you're ministering to those who own them," says Schultze, who has attended Esperanza for years and can't recall exactly when she began making the shawls for pets. She has two dogs of her own: Rain, a Chinese Crested powderpuff and Boston terrier mix, and Holliday, a Chihuahua mix.
"I gave a couple (of the pet shawls) away, and they were so appreciated," she says. "Word spread, and I got requests to make them."
The shawls for dogs are rectangular, about 24 inches by 18 inches. They are slightly smaller for cats, which take to them readily — and generally don't tear them up.
"They're very soft and washable," Schultze says of the shawls, "and the yarn is non-allergic. Cats haven't been destroying them."
Originally, she sold the shawls at Artist's Studio at The Farm at South Mountain. But they have been sold exclusively at Esperanza for several years now. The Ahwatukee Foothills News has written about Schultze's work.
For more information, email Schultze at [email protected].  You can also visit the Narthex for the pet prayer shawl display.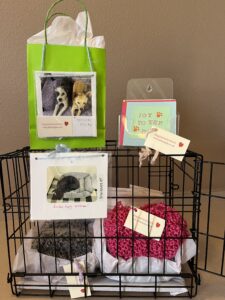 AT THE RAINBOW BRIDGE
The ashes of my little dog are
In a box wrapped in a
Dog-sized shawl
On the table.
I miss my little dog though
Seeing her covered with
Prayers and love
Is a comfort.
My sweet dog I can almost
Feel you with
My breath.
~Alice Schultze