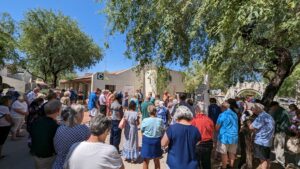 On Sunday, May 21, toward the end of worship, the Esperanza community gathered just outside the sanctuary to plant a tree in memory of Heidi Gerrish. May 21 was Heidi's death, the life changing accident for Kat and Stephen Gerrish and Justin Rheault, and tragic loss for so many.
Deacon Connie opened us with words from the book of Revelation: Then the angel showed me the river of the water of life, bright as crystal, flowing from the throne of God and of the Lamb through the middle of the street of the city. On either side of the river is the tree of life with its twelve kinds of fruits, producing its fruit each month, and the leaves of the tree are for the healing of the nations. Nothing accursed will be found there anymore. But the throne of God and of the Lamb will be in it, and his servants will worship him; they will see his face, and his name will be on their foreheads. And there will be no more night; they need no light of lamp or sun, for the Lord God will be their light, and they will reign forever and ever.
The community then shared words and phrases describing what they loved and appreciated most about Heidi. "Vivacious," "karaoke" and "giving" were just a few of the ways we remember Heidi. After giving thanks to God for Heidi, we prayed the Lord's Prayer together, and the Gerrish family then placed the thornless palo verde in the ground. Beneath the tree, Paul Gerrish set a stone composed of Heidi's ashes, and at the foot of the tree, the family placed vibrant butterflies and a plaque reading: In Loving Memory of Heidi Marie Gerrish — November 9, 1991 – May 21, 2022. With a shovel that was used to build the Esperanza church building — as well as others — members of the Esperanza community came forward to contribute a shovelful of soil to the planting of the tree. As we came forward, we sang the oft-sung All Saints Day hymn "For All the Saints."
Finally, Deacon Connie closed our time together with a blessing: As it grows, may the leaves of this tree bring healing to our wounded hearts in the name of the Father and of the Son and of the Holy Spirit. Amen.
John of Patmos, who received the vision that became the book of Revelation, saw a tree of life whose leaves were for the healing of the nations. As our community continues to mourn the death of Heidi Gerrish, we pray that this tree and God's gathered community might bring healing to our wounded hearts.
Pastor Sarah