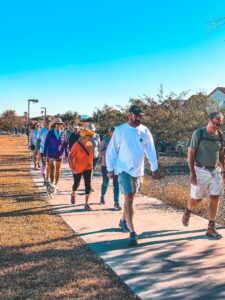 Esperanza organized, and hosted the Ahwatukee Foothills CROP Hunger Walk on November 13 at Desert Foothills Park.  The fundraising event received $11,000 in donations!  Seventy-five percent of the donations will be used by Church World Services, a faith-based organization transforming communities around the globe through just and sustainable responses to hunger, poverty, displacement, and disaster.  Twenty-five percent of the donations will be donated to the Kyrene Family Resource Center to help stock food shelves.
Walk teams from the following churches participated in the Walk: Desert Cross Lutheran, Mountain View Lutheran, Desert Foothills United Methodist, and Esperanza.
Thank you to the CROP Hunger Walk organizing committee: Beth Leaf, Craig Peck, Michelle Tinsley, Peggy Hanson, Chris Armfield, Randy Wright, and Larry Hanson.  Thank you to Esperanza Team Captain Ray Palomaa.
Also thank you to the jazz band members: Steve Newell, Dick Dorwart, Steve Waters, and Jon Yockey.
Any questions, contact Peggy or Larry Hanson.
Click Here for the Ahwatukee Foothills News Article (Nov 2022)