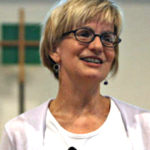 I watched my mom go through a long period of adjusting to "not being useful" after a lifetime of sitting down only when there was desk work to do (she did sit down for meals, but then she'd jump up to replenish someone's plate or drink). When Dad died and she moved into a place where meals were provided, she was left with hours of the day not spoken for, but she found it unnatural to do something during the day just because she wanted to.
She felt she wasn't useful anymore—and, if not useful, then not valuable.
Maybe some of you reading this are feeling some of that right now. There is the basic reality that we can all be most helpful to each other by staying home, which is a pretty passive way to help. Then, for those of us who are on the older side, we're really not even encouraged to shop for someone or stop by someone's house to give a Zoom tutorial. Sidelined is how it feels. It's like being patted on the arm and told, "You know what you can do to be really helpful? Sit over there and stay out of the way."
In these circumstances, I've had to acknowledge that it's time for me to take a piece of advice I've been handing out for years. That advice: Cultivate your prayer life.
Praying for God's world and the people in it is something useful you can do in any circumstance. It's a way to participate in the world even when you're forced to be absent from the world. It's a way to support loved ones even when you can't make a casserole and drop it off. It's a way to support strangers even if they're on the other side of the world. And it has the side benefit of strengthening your own faith and lifting your loneliness, because you can always be in conversation with a God who cares, who knows you and loves you, who knows the number of hairs on your head and the number of sorrows in your heart.
While you're praying, please pray for Esperanza Lutheran Church. Whatever's most on your heart when you think about our church, lift that up to God and ask that God's Spirit would flow through it to support and strengthen us in this oh-so challenging time.
And, if you'd like to join with other Esperanzans for a brief, weekly time of prayer, we're meeting online for the next three Wednesdays (perhaps beyond that) to pray in support of Esperanza's people and ministries. Call or email me for information at 224-422-9552 or  [email protected].
Many blessings and good health to you!
Pastor Carol