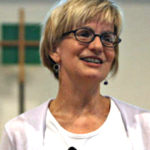 For a long time when I was young, I thought it was strange that in the Apostles' Creed we say that we believe in the communion of saints. After all the stuff about God, here's something that's about us. And it felt funny to say I believed in a human thing, a collection of human beings.
As I got older, I began to have a better understanding of what that phrase "the communion of saints" is all about—what it refers to and what it entails. Then I could see how it's something we believe in although we can't actually see it. For starters, it's too big to see, being the communion of followers of Jesus across time (past, present, future) and space (Africa, Asia, etc.). But also, it's invisible. The communion of saints is the invisible work of God's Holy Spirit, connecting human beings who may or may not be doing a good job of visibly living out that connection, or even when they're prevented from being physically together.
In the U.S., the church hasn't been forced apart by an oppressive government or driven to meet in secret and in small gatherings for safety. But now we are forced apart for safety in this coronavirus era. We don't know when exactly we'll meet together in-person again or what size groups will be advisable even then.
A good number in the Esperanza family are embodying the communion of saints by connecting regularly online. But many aren't. Not everyone is equally equipped for online gatherings or equally comfortable with that mode of connection.
We are called in a new way to believe in the communion of saints, to remind ourselves that Esperanza Lutheran Church is an ongoing reality, called and gathered into one body by the Holy Spirit, even if we drive by the building and there isn't a single car in the parking lot. Our relationships are real, our fellowship continues. We even have a brand new ministry that's thriving: people working together/apart to provide meals and protective masks for medical residents (see the article below).
I want to encourage everyone to keep up—maybe even increase—your sense of connectedness with your fellow Esperanzans during this time.
If you can, join in for Holy Communion and Coffee Hour on Sundays at 10:00am (invitation below). Just stop in briefly if you want to see what it's like.
Pick up the phone and make a call if someone pops into your mind. It could be a nudge from the Holy Spirit.
If you can use a little help, please please please don't hesitate to get in touch with me or with Joni. We have a list of people who want to be of assistance. I'm at [email protected] or 224-422-9552. Joni is at [email protected].
Finally, include Esperanza and its members in your prayers. Pray for the whole congregation, that God will keep us strong and guide our leaders. Pray for individual members, staff members, preschool staff … maybe go through the directory person-by-person and family-by-family and pray for the people you know and the people you don't know yet.
I am praying for you. Please reach out if you want to talk. And I hope to see you Sunday for communion and coffee hour!
Peace and health to you!
Pastor Carol