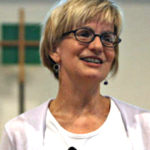 Sisters and brothers, we're gathered this evening because it's a very particular Thursday in a very particular week, Holy Week, when we remember and contemplate what Jesus did and what happened to him in his final days before his death.
For a lot of us right now, the days are just running together in an indistinguishable flow. It's hard to stay oriented.
But for Jesus and his disciples, in the days we're remembering, their senses must have been on high alert each moment. Their attention laser-focused. Each one of them knew that Jesus' life was on the line from the moment he arrived in Jerusalem. Jesus was clear with his disciples that each day brought them closer to his death.
They knew that the Passover meal they'd share on this night would be their last together.
Those disciples were pulled away from the day-to-day and drawn into a room filled with tension, fear, anticipatory grief, and, no doubt, a profound awareness that they'd all been on an amazing journey in the few years they'd been together, a journey that was headed toward its unavoidable conclusion.
Listen to the account as written in Matthew's gospel:
On the first day of Unleavened Bread the disciples came to Jesus, saying, "Where do you want us to make the preparations for you to eat the Passover?" He said, "Go into the city to a certain man, and say to him, 'The Teacher says, My time is near; I will keep the Passover at your house with my disciples.'" So the disciples did as Jesus had directed them, and they prepared the Passover meal.
When it was evening, he took his place with the twelve; and while they were eating, he said, "Truly I tell you, one of you will betray me." And they became greatly distressed and began to say to him one after another, "Surely not I, Lord?"
He answered, "The one who has dipped his hand into the bowl with me will betray me. The Son of Man goes as it is written of him, but woe to that one by whom the Son of Man is betrayed! It would have been better for that one not to have been born." Judas, who betrayed him, said, "Surely not I, Rabbi?" He replied, "You have said so."
While they were eating, Jesus took a loaf of bread, and after blessing it he broke it, gave it to the disciples, and said, "Take, eat; this is my body." Then he took a cup, and after giving thanks he gave it to them, saying, "Drink from it, all of you; for this is my blood of the covenant, which is poured out for many for the forgiveness of sins. I tell you, I will never again drink of this fruit of the vine until that day when I drink it new with you in my Father's kingdom." (Matt. 26:17-29)
We're about to join in that meal that Jesus' followers have eaten together an uncountable number of times since that first time in a house somewhere in Jerusalem.
Of course, we're doing it in a new way—spread apart and yet together, with our own pieces of bread and our own cups of wine, but shared in one communion with each other and with the church across time and space.
We share something else with those disciples: an awareness that the world is changing, that things won't be the same again.
We don't know what our world will look like 6 months from now, but we know it'll look different from what it looked like 6 months before now.
The disciples at the table with Jesus knew their world was about to change. They didn't know exactly how.
But we, looking from where we stand, we do know this: that Jesus did give up his body and did shed his blood, that he brought us into a new covenant relationship with God forever, sealed by his death for us.
Even in the midst of the haze of days of unchanging boredom for some of us, unchanging stress for some of us—especially those of us who work in healthcare—in the midst of all that, may we keep, in these Holy Days, a heightened focus on our Lord Jesus as we share this meal in his name; linger with him in the garden; see him arrested, tried, and convicted; stand at the foot of the cross; and then wait, in hushed reverence, to see the stone rolled away.