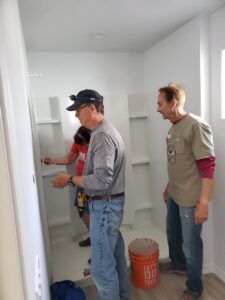 It's an Esperanza tradition unlike any other, and it's bringing hope to families that need it most.
Our church's participation in a Habitat for Humanity homebuilding project for the 26 th year will officially kick off on Saturday, Jan. 14, at a site in Tempe. Over the course of six months, a two-story house will be constructed for a single mother, Angela Pelosi, and her three children.
Esperanza will be joined on the build by three other churches from the Southeast Valley Lutheran Coalition: Mountain View in Ahwatukee, Desert Cross in Tempe and Holy Trinity in Chandler.
In addition to supplying the volunteer labor that will construct the house, the four churches have been tasked with raising $125,000 for materials and other expenses.  Much of that amount comes through tax-credit donations to the coalition.
Since Habitat's founding in 1976, the Christian nonprofit organization with headquarters in Atlanta has helped nearly 40 million people improve their living conditions in more than 70 countries. Former President Jimmy Carter has been involved with Habitat for years.
John Fisher is coordinating Esperanza's effort and has been helping since the church's first year of participation.
"It's a wonderful program," he says. "The houses have gotten a little bigger over the years. The first one we did had a one-car carport, and all now have two-car garages.  But the process is much the same."
The residential family is required to contribute 400 hours of sweat equity on the front end, making the project "a hand up, not a handout," as Fisher says. The return on that is a 30-year, interest-free mortgage designed to keep them in the house affordably.
"Those moving into the house have a lot invested in it," Fisher says. "You get to
know the family well in the process, and you feel good that you're putting them in a good situation."
On any given Saturday, Esperanza will have as many as 10 people working at the site, which is at 3610 S. Roosevelt St. in Tempe, south of Broadway Road and east of Hardy Drive. Two other Habitat houses also are being built at that location.
Some work details will be handled by a small team meeting on Tuesdays. The first-
floor exterior walls on the Pelosis' house will be up by the end of the first Saturday,
which will include a wall-signing ceremony and a house blessing.
If all goes according to schedule, the house will be turned over to the Pelosis with a dedication ceremony on Saturday, July 8.
For information on how to join Esperanza's build team, click here.