O'Neil Filloon sent the following note to the parents of confirmation and youth group kids as he finished his time at Esperanza. A big thank-you to O'Neil for his loving, engaging, supportive, and fun presence with the kids this past year. And best of luck with med school!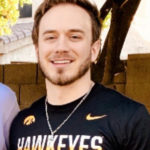 Hello Esperanza families and friends!
With the conclusion of the youth group calendar year and final Zoom session, I wanted to take the chance to say thank you for welcoming me into the Esperanza community this past year and treating me like someone who had been around for years. This year was so fun working with the kids, the front office staff, and jamming with the band for service.
Unfortunately, after discussing with Pastor Carol how my availability has changed, I won't be able to be a part of this moving forward. I had hoped to be part of this community for two years, but the pandemic has pushed the medical school cycle behind two to three months, and I won't be able to commute to and from Phoenix and Tucson while keeping my job in the ER full time and continuing to apply/test/interview with schools for the next seven to eight months as I had been doing this past year. These past several months have been challenging for all of us uniquely, and sadly my path has been redirected.
I thoroughly enjoyed all the time we spent this year together, and although this year was different with the change in leadership and the pandemic changing course, I hope I was able to bring some joy and lessons to your kids. They are so tight-knit, and they have such bright futures! I hope they stay this close together, and that the church continues to be a backbone for them.
Esperanza has been such a great learning experience for me, and I pray for the best for you all and this community!
Thanks again, stay safe and happy!
O'Neil