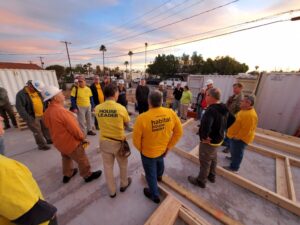 Volunteers from Esperanza pitched in on Saturday, Jan. 14, as a Habitat for Humanity homebuilding project officially launched in Tempe.
The framework for the exterior walls went up on the property at 3610 S. Roosevelt St., near Broadway Road and Hardy Drive, where the house will be constructed for a single mother, Angela Pelosi, and her three children. The back wall of the garage also was put in place.
"We got a lot done," Esperanza team lead John Gemma said of the first day's work. The build is Gemma's 10th for Habitat.
On Saturday, Jan. 21, work on the house will receive an in-person blessing from Pastor Sarah. The walls will be signed by volunteers and the Pelosi family.
Also contributing time and resources to the build are three other churches from the Southeast Valley Lutheran Coalition: Mountain View in Ahwatukee, Desert Cross in Tempe and Holy Trinity in Chandler.
In addition to supplying the volunteer labor that will construct the house, the four churches have been tasked with raising $125,000 for materials and other expenses. Much of that amount comes through tax-credit donations to the coalition.
Each church also is responsible for providing lunch on a rotating basis. Esperanza will provide lunch on Jan. 28, March 4, April 1, May 6 and June 3. The schedule will be posted at church. If all goes according to plan, the house will be turned over to the Pelosis with a ceremony on Saturday, July 8.
For information on how to join Esperanza's build team, click here.
Check out our YouTube Channel for last year's video.