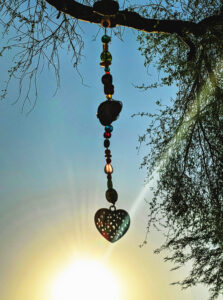 Join us at 5 p.m. on Sunday for the Hope Grows Here Happy Hour in the Garden. Esperanza is a community of friends joined together by God's love. Let's celebrate new friendships and old in the Garden of Eatin' as the sun sets.
"We're thrilled we can welcome all of you to a garden happy hour, right here at Esperanza, in person!" said Peggy Wagner of the Fellowship Team. So, bring your chair, a beverage and a nibble if you wish and enjoy good conversations with friends.
Stewardship encompasses all the ways we give – time, talent and treasure. It's a way of life rather than an annual "ask." But every fall we take time to think deeply about how and why we share. Our program this year is called Hope Grows Here. Our friendships are the source of hope, especially during trying times such as the past 19 months. Now that we can get together in person we can grow hope by refreshing those relationships.
Hope Grows Here – Happy Hour in the Garden
Date: Sunday, September 26, 2021
Time: 5 p.m.
Place: Garden of Eatin'
Bring: A chair, a beverage and a nibble
Sign up: Hope Grows Here Happy Hour