Vaction Bible School 2022 will be an entire week from June 6, 2022 – June 10th, 2022!  
Watch out for more information.  See below for information on the VBS 2021 program.
Superhero Vacation Bible School at Esperanza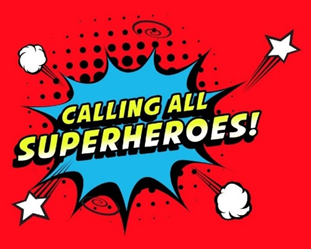 Thursday June 10, 2021
9:00AM – 2:00PM
$20 per Child
Ages: 3 years old through entering 5th grade
Vacation Bible School Is Back: Calling All Superheroes for the Best Day Ever!
It's almost time for the Best Day Ever! Join us as we learn about some SUPERHEROES from the Bible at Esperanza's in-person one-day Vacation Bible School on Thursday, June 10, from 9 a.m. to 2 p.m.
This day of fun begins with music, skits and dance moves. Throughout this incredible day kids will learn about God's superheroes through science, arts and crafts, Bible stories, music, games, and a service project for the heroes of 2021: our first responders! The Best Day Ever ends with a closing of celebration at 2 p.m.
Enrollment is for ages 3 through entering 5th grade at $20 per child. Each child will be asked to bring a sack lunch, a snack, and a mask.
If Covid infection rates are high, this event will be cancelled. Participating families will be notified before June 10.
Help Wanted!
We need older youth and adults to make this day happen! You may volunteer to help using the button above. For questions or further information call Deacon Connie at 480-759-1515.
And invite your friends and neighbors. All are welcome on the Best Day Ever!