Sunday Funday School
Sunday Funday School in December – December 4th, 11th and 18th
No Sunday School for Christmas and New Year's (December 25th and January 1st)
Esperanza 's Sunday Funday School begins again on Sunday January 8, 2023.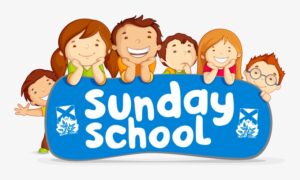 Esperanza's Funday Sunday School is for EVERYONE who is interested!  Kids, Youth and Adults.  Each group will meet separately.  
Children pre-K through fifth grade – Sunday School kickoff is Sunday, Sept. 11, at 10:15AM (15 minutes into fellowship) for children pre-K through fifth grade.
Each Sunday we will gather in the upstairs great room to actively learn about our God. We will learn about how much God loves us and how we can love others. We will learn about our Earth and how we can care for God's creation. Join us after worship for lessons, crafts, snacks and prayers. See you upstairs!
Adult Sunday School – Sunday School for Adults will commence on Sunday Sept. 11th at 10:30AM until 11:00AM.    
Sunday Funday School Meeting Locations: 
Children
– Upstairs Community Room
Youth
– The Garage
Adults – Room #2.
There is a "Pray-Ground" in the Esperanza Sanctuary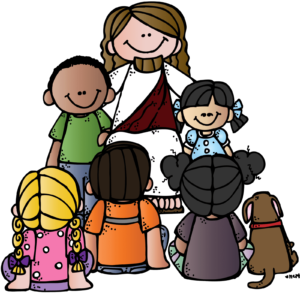 We welcome children of all ages in worship. Children are an integral part of the body of Christ, and we welcome them to worship with all of the sounds and movement that they bring with them.
Esperanza's Pray-Ground is a wonderful option for families to experience worship together. Located in the northeastern corner of the sanctuary is an area designed for young children to quietly engage in age- appropriate activities. Please join us at our "Pray-Ground" on Sundays during regular service (9:30AM through Sept. 4th and starting Sept. 11th 9:00AM)
Coming in February 2023 First Communion workshop
Below are past weekly Sunday Funday School lessons you can discuss with your children!  Lessons are designed for family members to share.
For more information and help learning how to use these materials effectively, contact Deacon Connie Rose-Kamprath, Children's Ministry Coordinator at [email protected]
Bible Story: Creation – God made human beings
All Ages
May 23, 2021
On the sixth day God made human beings and made them in God's own image, an image of love, strength, and caring for the earth and all that is in it. Download Lesson for May 23, 2021
Bible Store: Creation – God made every star in the sky? Millions…Billions!
All Ages
May 16, 2021
God took seven days of intentional commands to create our amazing world.  God took seven days of intentional commands to create our amazing world.  Each time God created, it was beautiful and good. Download lesson for May 16, 2021
Bible Story: Creation – God begins to create out of love and goodness
All Ages
May 9, 2021
God wanted to create a world that came from God. The creation was created out of love and goodness. Download lesson for May 9, 2021
Bible Story: Creation – God created out of nothing
All Ages
May 2, 2021
God made the world. God created everything, and it was good! Download Lesson for May 2, 2021
Bible Story: The Empty Tomb
All Ages
April 25, 2021
All four gospels have the story of Jesus's resurrection. Each gospel writer found the tomb empty.  The tomb was not a place for the living! So Jesus was not there… he was alive. Download April 25, 2021
Bible Story: The Empty Tomb
All Ages
April 18, 2021
The Tomb was Empty!  Jesus had fulfilled his promise, he rose from the dead! Download April 18, 2021
Bible Story: Easter
All Ages
April 11, 2021
Our Easter season lessons are filled with activities and delicious food lessons to share with your child. In this season of hope and new life may you share with your child God's gift of new life in Christ. Jesus shared with his disciples and the people who followed him that he was to die and in three days rise from the dead. Download April 11, 2021
Bible Story: The Lord's Prayer
All Ages
March 21, 2021
The Lord's Prayer shows what is important in a prayer. Not only does this prayer ask God for help, but it also reminds us that we are to honor God. This prayer is a good balance of thanking and honoring God,  and asking God to provide us what we need. Download March 21, 2021
Bible Story: The Lord's Prayer
All Ages
March 14, 2021
In the Lord's prayer there are many words that we do not use or understand today in 2021. Lord's prayer words and definitions are defined in Luther's small Catechism.  Enclosed in your packet is the Small Catechism pages:15-22. This will give you insight and understanding of the Lord's Prayer. Download March 14, 2021
Bible Story: The Lord's Prayer
All Ages
March 7, 2021
Jesus taught the disciples many things about God and how God wanted them to live.  People everywhere came to hear Jesus teach about God's kingdom. Download March 7, 2021
Bible Story: The Lord's Prayer
All Ages
February 21, 2021
People were amazed by Jesus, he was a great storyteller. Love, respect and care for others…this is living upon the rock our God…a firm foundation. Download February 21, 2021
Bible Story: The House Built on a Rock
All Ages
February 14, 2021
Jesus loved to teach stories about God.  He wanted to share and show how to live a life of God. This story is about building a house on sand and building a house on rock. This parable/story is about building our lives on following Jesus and believing in  God.  Trust God and you we will be on solid ground. Jesus says if you listen to me, you are building your life on the sturdy rock of God. If you listen to others, you are building your life on ideas that are like the sand that will just blow away. People were amazed by Jesus and his wisdom.  He was a great teacher and peoples' hearts were changed. Download February 14, 2021
Bible Story: The House Built on a Rock
All Ages
February 7, 2021
Jesus tells stories called parables.  Jesus wanted everyone to know that God is our rock! Download The House on a Rock February 7
Bible Story: The House Built on a Rock
All Ages
January 31, 2021
This story encourages followers of Jesus to build their lives on a firm foundation, upon God! Download The House on a Rock January 31
Bible Story: Simeon, Anna and the Christ Child
All Ages
January 24, 2021
Jesus and his family come to the temple, and Simeon and Anna meet the Messiah! Download Epiphany No. 4 January 24, 2021
Bible Story: Simeon and Anna at the Temple waiting for the Messiah
January 17, 2021
God fulfills his promise to Simon that he would see the Messiah before he died. Download Epiphany No. 3 January 17, 2021
Bible Story: The Wise Men Search for a King
January 10, 2021
The Wisemen followed a Star to find God's promise of Baby that would be the Savior of the world. The King of Kings. Download Epiphany No. 2 January 10, 2021
Bible Story: The Shepherds Hear the News of the Messiah
January 3, 2021
The angels tell the shepherds to hurry to Bethlehem to see the newborn Jesus! Download  Epiphany No 1 January 3, 2021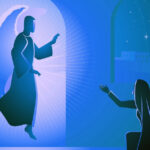 Bible Story: Jesus is Born in Bethlehem – Part Four
December 20, 20320
Mary and Joseph arrive in Bethlehem to find that the best they can do for a place to sleep is a stable. Download December 20, 2020
Bible Story: Mary and Elizabeth Talk About Their Babies – Part Three
December 13, 2020
Mary visits her cousin Elizabeth who is going to have a baby too. She will be John the Baptist mother. Download December 13, 2020
Bible Story: Angel Gabriel Came to Tell Mary – Part Two
December 6, 2020
God sent a message to Mary! She was chosen to be God's mom! Download December 6, 2020 – Advent No. 2
Bible Story: Angel Gabriel Came to Tell Mary – Part One
November 29, 2020
The Angel of the Lord came down to tell Mary she will have a child and his name will be Jesus. Download November 29 – Advent No. 1
Bible Story: Four Friends – Part Three
November 20, 2020
Friends help each other! Download November 22, 2020 – Lesson Three
Bible Story: Four Friends – Part Two
November 13, 2020
The four friends in our story had to be creative to find a way to bring their friend to Jesus for healing. Download November 15, 2010 – Lesson Two
Bible Story: Four Friends – Part One
November 6, 2020
Brave and good friends help their paralyzed friend. Download November 6, 2020
Bible Story: Jesus Feeds the 5,000 – Part Four
October 30, 2020
Jesus wants us to share food and take care of everyone. Download October 30, 2020 Lesson 8
Bible Story: Jesus Feeds the 5,000 – Part Three
October 23, 2020
We continue studying the story of the feeding of the 5,000. Download October 23, 2020 – Lesson 7
Bible Story: Jesus Feeds the 5,000 – Part Two
October 18, 2020
The story about feeding the 5,000 is amazing! Download October 17, Lesson Six
Bible Story: Jesus Feeds the 5,000 – Part One
October 11, 2020
Jesus performed a miracle, feeding all 5000 people and had leftovers too! Download October 11, Lesson 5
Bible Story: Jesus Calms the Storm – Part Four
October 4, 2020
When we ask Jesus to help when we are afraid. Jesus opens his arms and calms us. Download October 4, Lesson Four
Bible Story: Jesus Calms the Storm – Part Three
September 27, 2020
The disciples were fishermen. We are going to practice our fishing in a storm, as we
master the facts of our story. Download September 27, Lesson Three
Bible Story: Jesus Calms the Storm – Part Two
September 20, 2020
Today in our story, the disciples were saved from the storm. Download September 20, Lesson Two

Bible Story: Jesus Calms the Storm – Part One
September 13, 2020
God protects us from the storms of our lives. Download September 13, Lesson One