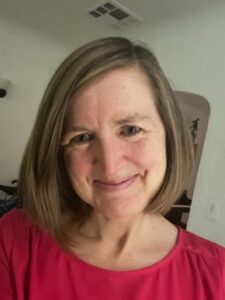 Pastor Sarah Stadler joined Esperanza on November 15th, 2022 to help us during our time of transition as we seek a new pastor for our community.
Sarah Stadler serves as interim pastor as the Esperanza community discerns its way forward in mission and ministry. Originally from Minnesota, Pastor Sarah graduated from Luther College in Decorah, Iowa and the Lutheran School of Theology at Chicago. She served God at St. Peter Lutheran Church in Denver, Iowa for 4 years and then at Grace Lutheran Church in downtown Phoenix for 12 years prior to coming to Esperanza. Passionate about helping build a more just and loving world, Pastor Sarah sees church as a meeting place of God's diverse people where we practice love in concrete ways so that we can go and be the church in all the various places we find ourselves day to day. In addition to pastoral ministry, Pastor Sarah enjoys gardening, running, meditation, yoga, biking, reading and writing poetry, teaching piano lessons to kiddos, volunteering in harm reduction, and spending time with good friends and family.
Pastor Sarah is already acquainted with Esperanza because of our assistance with the homeless outreach programs at Grace Lutheran Church, where she served as pastor for the past 12 years.  Pastor Sarah welcomes all people to share in the Esperanza community regardless of background and would love to talk with you!