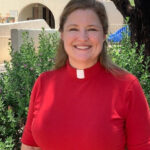 Pastor Annemarie Burke was born and raised in Tucson. She's served congregations in the Mountain West and now is back home in the Sonoran Desert where she belongs.
She received her Master of Divinity degree at Luther Seminary in St. Paul, Minnesota and served her internship year on the Iron Range of Northern Minnesota. When asked if she was out of her mind for going from the desert to the Snow Belt, she replied, "Yes." But she learned about the Finnish concept of "Sisu," how to throw boiling water into the air and watch it fall to the ground as snow, and that 20º below zero isn't as bad as it sounds (but 46º below is).
Pastor Annemarie was blessed with the opportunities to visit churches in the newly re-formed Baltic countries in the early 90's after the USSR disbanded, and later to live in Tanzania for a time. She loves walking in the desert, reading escapist novels, is a dog person but has cats, is gradually learning to play the harp, and will wax poetic about Star Trek if you don't run away fast enough.
She loves Jesus and talking with people about what God is calling them to do and become.